So I have a unique and PITA situation here.
I have a school that is running Snow Leopard Server and Windows Server 2008. They are 99% MAC Based in their workstations, but have a couple PCs. They have file shares on both servers. The are adamant about not removing the windows server from the network.
What they want to do is have the OSX Server be the master and replicate the user info (just Login Name, User Name, and Password) to AD so that file sharing and such won't be a problem regardless of the platform they are using.
My issue is getting the Two server to talk to eachother. I have replicated a similar network in my office where I have a Snow Leo Server and Window Server 2k8 running on the same test network. The win2k8 server is setup on domain dns.lan the OSX server is setup on DNS.lan as well.
The OSX server is called "server.dns.lan"
The Win2k8 server is called "winsrv.dns.lan"
when I go into Directory Utility and enable Active Directory then go into the settings to bind it I am leaving the Active Directory Forest set at " - Automatic - "
Active Directory Domain I input "dns.lan"
Computer ID I leave with the default which is "server"
I then click Bind and it brings up the Network Administrator Required field.
I put in the Username and password for the windows Server and Click OK and I get the attached error.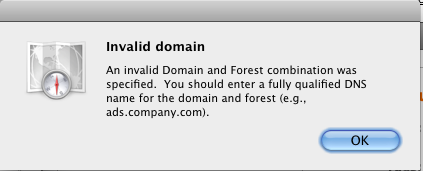 So I turn to the experts that have been oh so helpful in the past.
they are also wanting this live in 2 weeks, even though I was originally told it wasn't happening until May. -.-
Thanks in advance for any help!