I've just set up a new Domino Server (first server in domain) and don't seem to be able to send emails from the Administrator mail file. I can create the email and save it as a draft, but get the following message, saying "Can't connect to server" which isn't true as I am connected!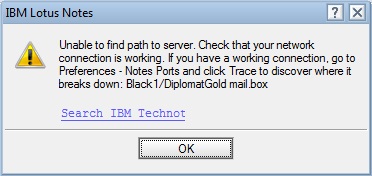 I did a trace from the preferences as it suggested and have pasted the details below.
The Server Console was telling me there was a problem with DNS, but I added "dnsserver=<dns server ip address>" which seemed to fix that.
The Mail.box is empty, so nothing is getting that far, although I sort of knew that as the message won't even let me send the email.
Quick responses appreciated.
Determining path to server Black1/Diplomat Gold




Available Ports:  TCPIP




Checking normal priority connection documents only...




Allowing wild card connection documents...




Checking for Black1/Diplomat Gold at last known address '94.75.192.21' on TCPIP...




Connected to server Black1/Diplomat Gold




Attempting Authenticated Connection




Compression is Disabled




Encryption is Disabled