Experts,
I have this report that returns the Grand Total Sum.
This Grand Total Sum is needed on other reports/forms.
I am thinking that if I want this Grand Total Sum available as a field on other reports / forms I will need to develop a Public Function.
What I am trying to do is develop a Availability report and I first must start out with the Grand Total Sum of all records. The SQL below contains the necessary information. I reallly dont know if I do need a Public Function but I think it would facilitate the development of an Availability Report .
What is an experts opinion on being able to call this Grand Total (See SQL and screen print) and making it available on other reports?
The following is the SQL of the report that returns a Grand Total that I would need available on other reports.
This is the formula that I use in the field that returns Grand Total Sum (it is circled on the report):
Sum(IIf([CurrencyID]=1,[Su
mOfAmount]
,([SumOfAm
ount]*[Exc
hangeRate]
)))
and this is the Grand Total I will want to use on other reports.
I hope it is clear. Please ask questions if not. Thank you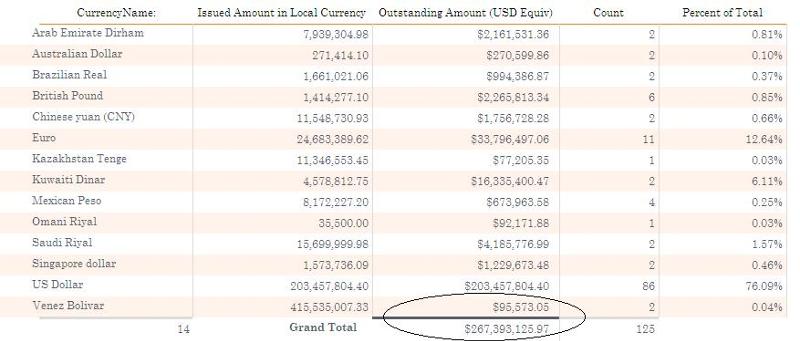 SELECT tblCurrencyExchange.CurrencyName, Sum(tblLetterOfCredit.amount) AS SumOfamount, tblCurrencyExchange.ExchangeRate, Count(tblCurrencyExchange.CurrencyID) AS CountOfCurrencyID, tblCurrencyExchange.Currencyid FROM tblCurrencyExchange RIGHT JOIN tblLetterOfCredit ON tblCurrencyExchange.CurrencyID = tblLetterOfCredit.Currency WHERE (((tblLetterOfCredit.LCType)<>1 And (tblLetterOfCredit.LCType)<>11 And (tblLetterOfCredit.LCType)<>12) AND ((tblLetterOfCredit.DateOfIssueSB) Is Not Null) AND ((tblLetterOfCredit.ExpiredYN)=0)) GROUP BY tblCurrencyExchange.CurrencyName, tblCurrencyExchange.ExchangeRate, tblCurrencyExchange.Currencyid;