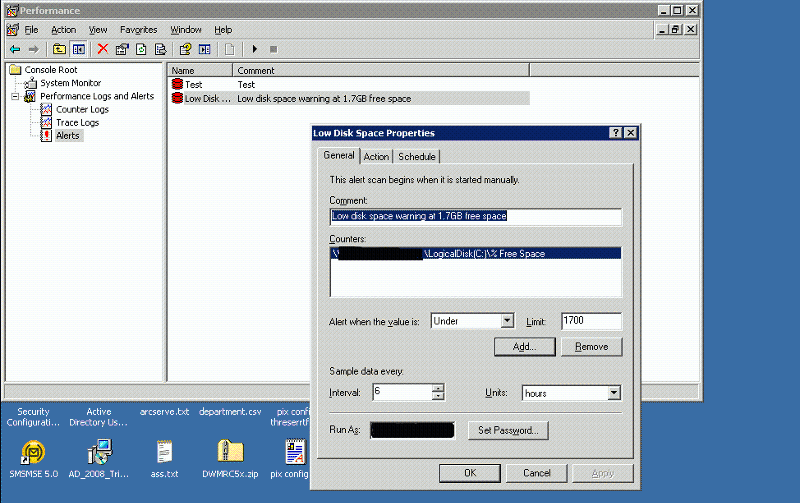 Hello.
I'm trying to configure performance alerts for my servers running Windows Server 2003 Standard. The issue that I'm having is that the alerts only trigger at the sampling interval, NOT when the criteria/thresholds in the counters are met.
For example, one alert I'm trying to set is for low disk space. Unless I'm mistaken, the limit value is in MB, so to set an alert to trigger when c: free space is less than 1.7GB, I set the value as shown in the attached image of 1700.
However, no matter what value I set in the counter (or how much free space there actually is in c:), the alerts trigger only at the sample interval. I've set the scanning to be started and stopped manually.
-Have I missed something or made a mistake somewhere?
-Is everything set correctly except my expactations?
What I would like is for the Performance Alerts component to constantly scan the amount of free space of c: so that when the free space falls below the limit I set, the alert triggers and it activates a batch file which then uses an smtp relay to send an email warning (
http://caspian.dotconf.net/menu/Software/SendEmail/
)
To be honest, I've also had the same problem with other counters, for example, monitoring total packets sent from a network interface. I set this up for another server, set the sample interval for 30 seconds and then rebooted that server. I would have expected the alerts to trigger only whilst the server was offline, but instead, the alert triggered every 30 seconds - before and after the server was rebooted. This continued only until I manually stopped the alert.
If it turns out that I haven't made any mistake or there is no apparent/obvious reason for all this, can anyone advise of a FREE monitoring tool that I can use to:
-Set up alerts that monitor free space on individual logical drives (locally or on a remote server), which then trigger when below a set threshold
-Set up alerts that monitor packets sent from a network interface on a local or remote server
-Send email alerts upon an alert triggering - either from the monitoring tool itself, or by using a smtp relay from a batch command (such as sendm -
http://caspian.dotconf.net/menu/Software/SendEmail/
)
-Monitor anything other than network connectivity or disk space (not expecting much for freeware but disk space and network connectivity are a must)
-Supports Win Server 2k3, Win XP, Win 2k (and not so importantly for now, Win 2k8 32bit)
-OR are there such monitoring tools out there that are not free but are very cheap and good value for money, something that can be used to monitor 15 servers and costs not much more than £40 - £50 (80 euros or 80 usd).
Apologies if I've missed anything or included too much :)