We upgraded the ASP.Net Telerik Control from 2009.2.701.20 to 2010.3.1317.35
After upgradation, we get an error message only on some page, which were using RadGrid
Because those pages have this -
http://www.telerik.com/help/aspnet/grid/grdsavingsettingsonperuserbasis.html
This is the error message - "
'The serialized data is invalid'
" - This error message is seen only when we debug in the error catch.
On IE we can see another Crash -
"Could not load file or assembly 'Telerik.Web.UI, Version=2009.2.701.20, Culture=neutral, PublicKeyToken=121fae78165ba3d4' or one of its dependencies. The located assembly's manifest definition does not match the assembly reference. (Exception from HRESULT: 0x80131040)"
See the screenshot below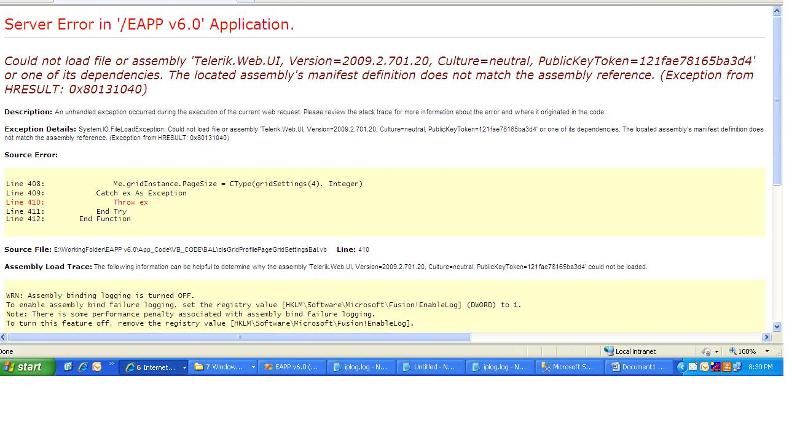 I know crash occurs when older version of Telerik DLL is still refer somewhere.
We double check in web.config. Older version reference is not there.
(We done the upgradation using Telerik 'Upgrade Wizard' in Telerik Menu in Visual Studio. )
Also I understand, this error could happen when the older version of Telerik DLL is in any cache folder
After migration, we got this crash (Screenshot). But it got fixed when we done these steps.
I cleared the Temporary folder of ASP.Net, cleared Browser Temp Files, Deleted *.pdb files in bin folder
Now I believe the error shown (Screenshot) is because of the real error - "'The serialized data is invalid'"
Upgraded site is working with our testing database without any issue, while crashing only when we connect to development database. Difference is that the viewstate data length is lesser for testing database.
See this link
http://weblogs.asp.net/lduveau/archive/2007/04/17/viewstate-chunking-in-asp-net-2-0-maxpagestatefieldlength.aspx
We tried setting MaxPageStateFieldLength in web.config - same error.
Any thoughts ?
Raj