I need to use a file to help re-write my URLs. Previously, on the other hosting company, I was able to use .htaccess but the new company already has a program that used this program and they saw that htaccess (no period). So I am using that now.
I use Expression Web for most of what I do. When I am working on a website, I can double click the htaccess file and then this dialog box appears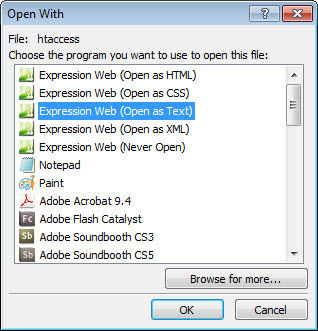 I choose Open with Expression Web (text). Is there a way to be able to double click on this file and have Expression Web open this file as a txt file.
I have looked at Control Panel\All Control Panel Items\Default Programs\Set Associations - but htaccess is not there.
Thanks!