I have a 4 site setup connected via Intenode IBC. All cisco 800 series and managed by Internode. No problem there.
At the main site there is a SOHO Internet connection connected to a Netgear UTM25. All Internet traffic for all 4 sites is sent out this Netgear router by way of a static route in the Cisco 800 at the main office.
Internet traffic for the HQ site routes fine but the 3 remote sites cannot get any Internet pages to load, but DNS resolves fine.
It was working fine before we installed the Netgear - previously we had a Linksys ADSL Modem/Router and the Internet traffic for remote sites was fine - just had static routes setup in the Linksys and away it went.
Details:
HQ Lan: 10.6.10.0/24 (Cisco is 10.6.10.254, Netgear is 10.6.10.1 - Static Route in Cisco to 10.6.10.1 for all Internet bound traffic.
Site 1 Lan: 10.6.11.0/24 (Cisco is 10.6.11.254)
Site 2 Lan: 10.6.12.0/24 (Cisco is 10.6.12.254)
Site 3 Lan: 10.6.13.0/24 (Cisco is 10.6.13.254)
Netgear is doing PPPOE connected to ADSL modem in bridge mode.
I have tried static routes in the Netgear for each of the remote sites but no luck. RIP is turned on and the Netgear appears to be sharing routing info with the CISCO. (See pic)
I also have Lan Multihoming settings (See pic)
Any help appreciated.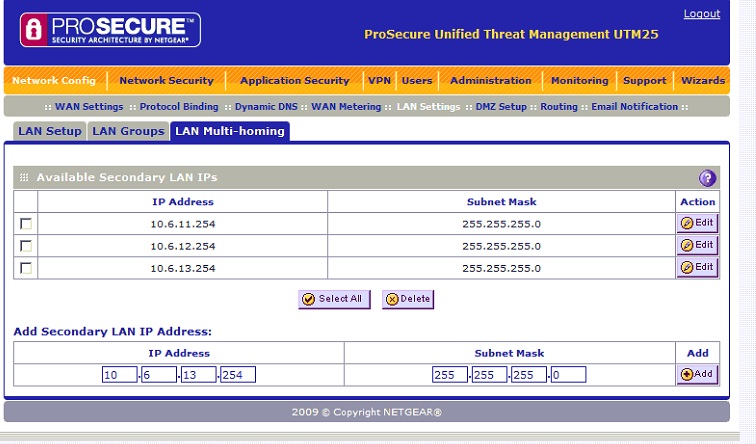 routing-table.jpg