Hello experts,
I have SQL 2005 server with 5 instances, running on W2K3 OS and 6GB RAM (AWE enabled). How should i go about setting min and max server memory setting.
In one of the instances when I executed the following query, I got the results as shown in emded image.
SELECT SUM(virtual_memory_reserve
d_kb) / 1024 AS [virtual memory allocated, MB], SUM(virtual_memory_committ
ed_kb) / 1024 AS [virtual memory committed, MB], SUM(awe_allocated_kb) / 1024 AS [AWE allocated, Mb] FROM sys.dm_os_memory_clerks

It says AWE allocated mem (mb) is 3202 whereas virtual memory allocated is 2611 MB.
Is this because I have set min and max mem as follows.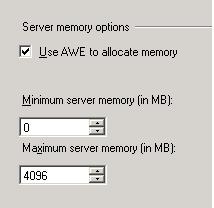 Please advise, what is the best practice to set these options.
Thanks and Regards