I come from PHP / MySQL so I don't understand how to do this in Access.
Client has an access database with two tables. One of those tables (contacts) has an email address field.
He has an excel spreadsheet with a list of 843 email addresses that are known bad (bounced, does not exist, etc...)
What I want is to do a For loop on the list, and update the table. "For each value in the excel list, update table and set bademail=true where email=[email in the excel list]".
How do I do this in Access?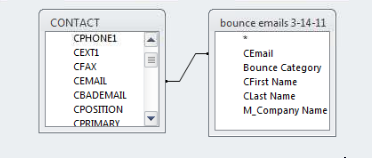 query-results.png