We have a Powervault 122 tape drive, and are using Veritas backup. We currently insert a tape every day and the backup job takes place at night.
Right now the Powervault is displaying "SEQ" on its display. We have a procedure for taking care of that, by inventorying the tape. However, when we go to inventory, that option is grayed out. So then we noticed that the powervault device is "Offline" in Vertia's device list. Right-clicking shows that it is enabled, and there's no options to make it "online".
It only recently started doing this, after a server restart, so we are not sure how to fix it.
Here's some screenshots of what we see in veritas: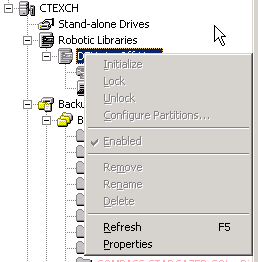 Veritas-right-click-on-slot-1.png