We run a gaming league and I want to write a query that will return to me the top 3 players in every game on a given event night.
Here is my table: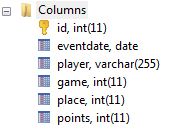 I think I have a query that does this, but shows all finishers:
SELECT SUM(points) AS totalpoints, player, game, eventdate FROM `jos_poker_stats6` WHERE eventdate > '2011-02-28' GROUP BY player, game, eventdate ORDER BY eventdate, game, totalpoints DESC
But of course, this gives everyone. I'm filtering this query too so that it only shows games from this past month's activity.
In PHP I could pretty easily just take the first three of every event date I guess, but thought there may be a way to do this in the query.
You can see the results below as written.
AS WRITTEN:





totalpointsnSSplayer      gameeventdate   




13  Samcro      1  2011-03-01  




9   halo        1  2011-03-01  




8   Paulette    1  2011-03-01  




7   trippy1976  1  2011-03-01  




6   mark        1  2011-03-01  




5   Kevin       1  2011-03-01  




4   Lepton      1  2011-03-01  




3   Wayno       1  2011-03-01  




2   Bucky       1  2011-03-01  




1   Tom         1  2011-03-01  




1   Betty       1  2011-03-01  




1   Jim         1  2011-03-01  




18  Kevin       2  2011-03-01  




9   SAMCRO      2  2011-03-01  




8   Paulette    2  2011-03-01  




7   Lepton      2  2011-03-01  




6   Tom         2  2011-03-01  




5   Wayno       2  2011-03-01  




4   Betty       2  2011-03-01  




3   Omie        2  2011-03-01  




2   halo        2  2011-03-01  




1   Remmy       2  2011-03-01  




...





WHAT I WANT:




totalpointsnSSplayer      gameeventdate   




13  Samcro      1  2011-03-01  




9   halo        1  2011-03-01  




8   Paulette    1  2011-03-01  




18  Kevin       2  2011-03-01  




9   SAMCRO      2  2011-03-01  




8   Paulette    2  2011-03-01