Hello,
In Excel (2007), is there a way to run a macro by clicking a particular cell?
In the documentation (Excel Help), I found descriptions re how to trigger macros by pressing keyboard combinations, clicking objects, clicking an icon on the Quick Access Toolbar and even by opening a workbook (see screenshot).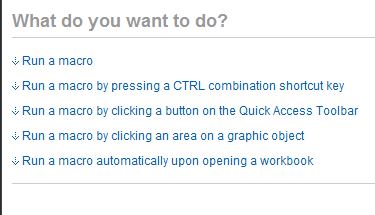 However, is there a way to have a designated cell (or its contents) behave almost as though it is a hyperlink -- but instead of going to a link destination, have it run a macro?
Thanks