I'm having an issue with slow backup job rate on an exchange server with the remote agent utility.
Server A is a 2008 file server with Symantec Backup Exec 12.5 with an IBM Ultrium-HH3 Tape Drive. Server B is an exchange 2010 server on server 2008 with the Symantec Backup Exec remote agent utility, version 12.5. The issue here is that every day, the job rate continues to decline. If I reboot the exchange server (server B) the job rate will be normal, and the backup will complete in 3 hours. Each day, the job rate declines and the backup time increases by several hours, to where eventually, the job will go so slow that it will last 24 hours. Of course, we can temporarily resolve this by rebooting the exchange server, which starts the process all over again.
I have temporarily resolved the issue by scheduling a reboot of the exchange server every 3 days; however, I'd like to find a better fix than that.

When I look at the job history, I can see that the job slows down on the system state of the exchange server, which uses the remote agent). The first day after a reboot, the exchange system state will run around 350mb/minute. Each day, it decreases by a considerable amount, and it will eventually get lower than 30mb/minute. Every other backup set runs fine and quickly each day.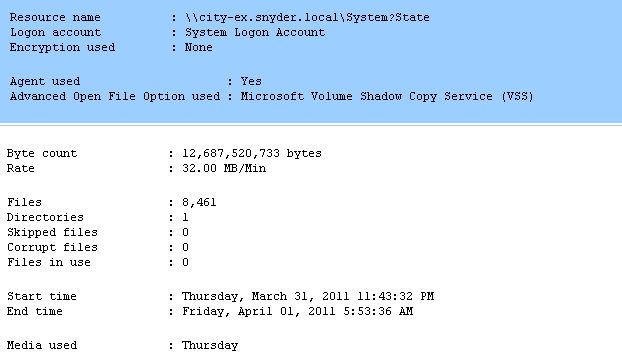 I have ran all live updates with Symantec and have re-installed the remote agent on the exchange server (server B)
Thank you in advance for any help or suggestions