So, I've got a Hyper-V R2 Server with the network settings all out of whack. Here's what I was trying to do…
PHYSICAL PORT 1
> Primary Network (10.1.1.x) > Assigned Address 10.1.1.65 > Also Used for the "Corp" Virtual Network
PHYSICAL PORT 2 > iSCSI #1 > Assigned Address 192.168.130.65
PHYSICAL PORT 3 > iSCSI #2 > Assigned Address 192.168.131.65
PHYSICAL PORT 4
> DMZ Network (10.1.2.x) > No Assigned Address (just pass-through) > Also used for the "DMZ" Virtual Network
The problem is, it's really difficult to know which adapter is which in the Hyper-V OS, the Hyper-V Manager, and then in the Virtual Networking drop-down. Somehow in my fiddling, things got messed up and I can't tell what is what. Ideally, I'd just reset the non-iSCSI networks and start over, but I'm not even sure how to do that. In my defense, I have about a dozen Hyper-V Servers here at work, so I'm fairly well versed in what to do, but this one has me stymied.
FIRST SCREENSHOT:
You'll notice that Index 0 and Index 2 are for the iSCSI links. They seem to be ok. Index 3 is using a DHCP address, because I'd try to manually set it to 10.1.1.65 (my preferred static) and it wouldn't stick. Ever. I'm not sure what Index 10 is for, since I don't currently have any Virtual Networks configured.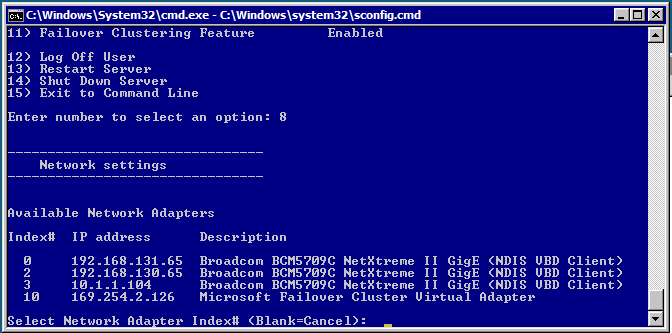 SECOND SCREENSHOT:
You'll notice that "Local Area Connection* 41" is referenced at the bottom of the first list, and with the 10.1.1.65 address that I want to use. No idea what that's about.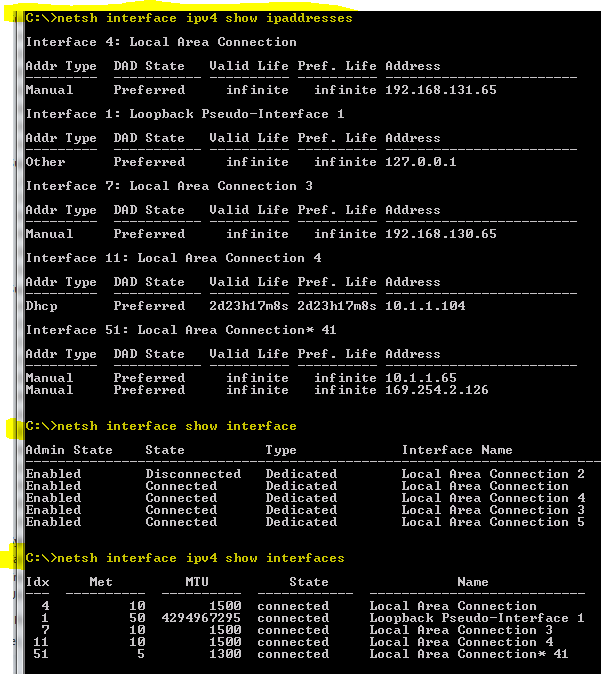 THIRD SCREENSHOT:
Again, the iSCSI links (192.168.x.x) are fine. The lowest connection is the DHCP address to my corp network, though I'd prefer to have that be a static address. Not sure why it won't stick.

Anyone have any ideas on how to sort this out?
Chumplet