Hello,
In Excel (2007), suppose Col A has a couple thousand entries which are random but all of the same format (General). Furthermore, suppose that Col B also has numerous entries, some of which are identical to entries in Col A and some of which are not.
What formula would go in Col C to indicate, with a simple Yes or No response, whether the adjacent entry in Col B can also be found in Col A?
Here is a quick example (if Col A had only seven rows) showing the desired result in Col C: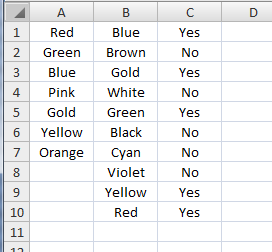 I thought the correct formula would be something like:
=IF(LOOKUP(B#,$A$1:$A$7...
???...="TR
UE"),"Yes"
,"No")
but I can't quite get it to work. Am I using the correct functions?
Thanks