Okay so i am starting with some back ground first. So What we are looking for is, a wifi network for all 12 of our terminal stations for our drivers to have WiFi access. We want to be able to have it setup pretty much like a WISP, but we want to lock down access to our driver (who already have logins (over 900 drivers). I purchased an HP Procurve MSM710 controller, with 2 (to start) MSM310-R access points. Since the maximum users allowed on the Controller was only 100 users, we setup FreeRadius (v.2.x) on a server running Ubuntu v 10.04.
So I have the Controller setup to redirect anyone that connect to the AP, to the captive portal, where it asks for a username and password. The Test user setup on the Controller (u -test p- test) and it works. I have configured the FreeRadius server according to this guide
https://help.ubuntu.com/community/CategoryNetworking/daloRADIUS
In my radius DB in MySql, i have a user setup as sqltest and pass : testpwd. When i run the command: radtest sqltest testpwd 127.0.0.1 1812 testing123 I get an Access-Accept message.
So Where I am getting stuck is configuring the MSM710 to use my freeradius server. I have gone through the VSC, and authentication setup on the Controller, and pointed it to the FreeRadius server, but it is a no go. I also tested to make sure they could ping each other which they can. But i cannot authenticate users from the controller to the Freeradius server. attached in capture.jpg is part of the system log on the Controller and what it says happened.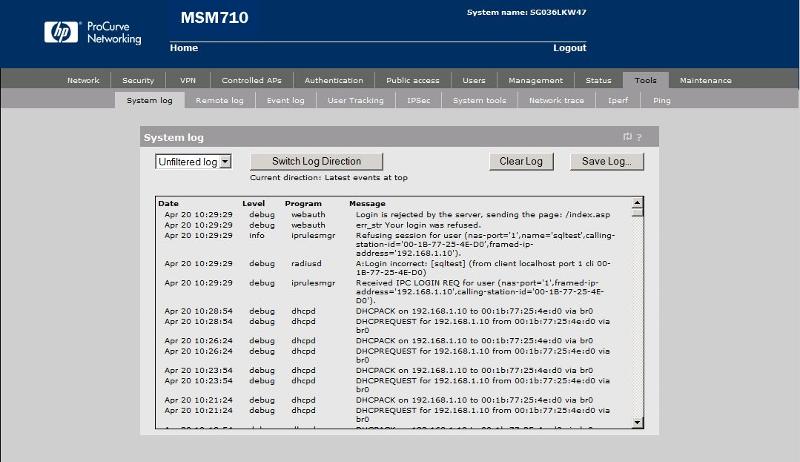 When the Server is running in debug mode, i dont see anything come across. They are both running on the same Vlan as well (not sure if anything with that config would have anythign to do with it.)
So thats where im at, I'm Looking for any suggestions, and what i may have missed on configuring the Freeradius or controller. Any help would be greatly appreciated. Thank you very much for your time.