Hello:
I have 1 user that, wherever he logs on, his already scheduled appointments have jumped up 1 hour ahead. This has just happened recently. That is if he had a re-occurring appointment for 9:00 - 10:00 am on Wednesdays. This re-occurring appointment now reads for 10:00 - 11:00 am on Wednesdays. The same thing is shown if the user logs on to the OWA. The same thing happens if the user logs on to another PC as well. The problem seems to be 'user' specific.
If someone sends the same user a new appointment, then the new appointment has the correct time on it. Hence, the problem is only with already existing appointments. In the past when multiple people had this type of problem, we just had the organizer (of the meeting) re-send the appointment. I am sure that will fix this problem again; but, how many times can we ask the organizer to re-send the same appointment? That is a bit annoying.
Right now only 1 user has this problem.
If that user changes the time zone settings in Outlook, then the older appointments get shifted back to the correct time. If one clicks on 'Tools' - 'Options' - 'Calendar' - (then if one clicks on the 'Time Zone ' button). Then un-check the option 'Adjust for Daylight Savings Time', that fixes the previous appointment problem.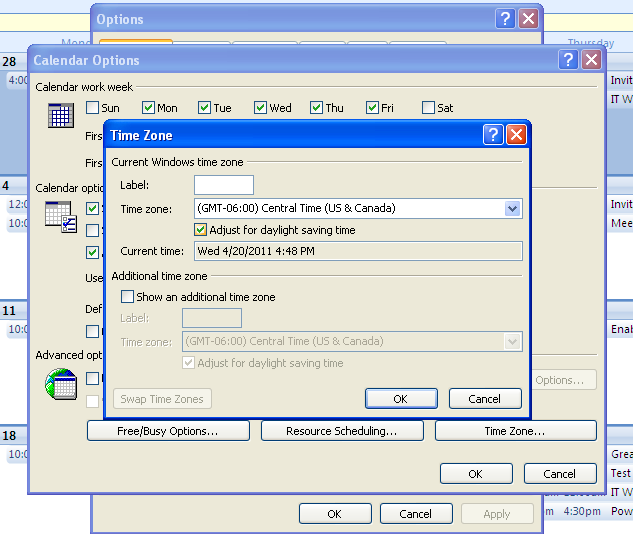 But if one does this, then all of the new appointments are hour behind.
We use Excahnge 2007, Outlook 2007, and most of the PC's we use in Windows XP. However, the problem happens on a Windows 7 test PC as well. This problem appears to be only with this 1 user.