I recently installed a new Speech Recognition SAPI device from Office 2003 for recognizing traditional Chinese spoken language. The problem is that office installed it as an entire service, which includes a Keyboard IME and Speech Recognition service. The IME is ChangJie Chinese input, however, I already have a Keyboard Layout / IME for Chinese installed, which uses pinyin.
For reasons that are difficult to explain, i need to to able to either remove the IME from the list of services, or to hide it so that using the Windows hotkey to cycle between the list of available IME's on the system does not show the Changjie IME.
Under Text Services and Input Languages, I have the following:
Chinese (PRC)
Keyboard
Zhongwen ( Sougou Input ) <-- This is the one I primarily use.
Speech Recognition <-- this is for Simplified Chinese, and not useful for me.
Chinese (Taiwan)
Keyboard
Chinese (Traditional) - New ChangJie <--- I want to remove this one.
Speech Recognition <--- I use this speech recognition API
English (United States)
Keyboard
US
Speech Recognition
As far as I can tell, you cannot modify a installed service once it has been added to the list of installed services. Attempting to add a new service does not give me the choice to add a Speech Recognition
Ideally, I would be able to add a new service, mixing the Sougou Pinyin IME with the traditional Chinese speech recognizer, but it doesn't give me that option under the Add menu.
Text Services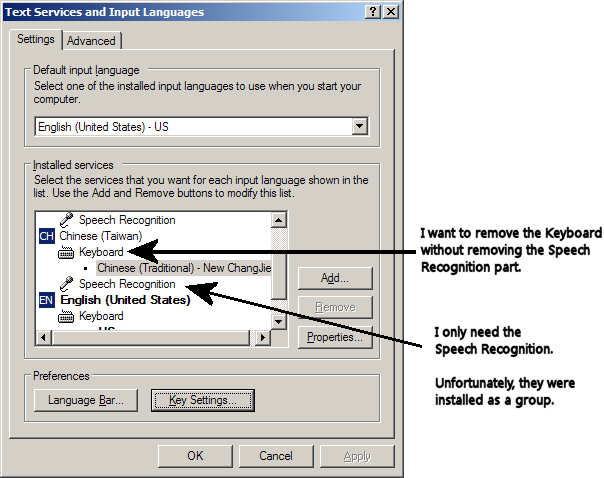 Speech Properties
Thanks,
Shaun