I have a windows XP 32 Bit PC that had office 2007 Pro installed.
I remove the 2007 from add/remove programs and reboot PC.
I then install 2010 but it detects a previous version of office installed and causes error in attachment.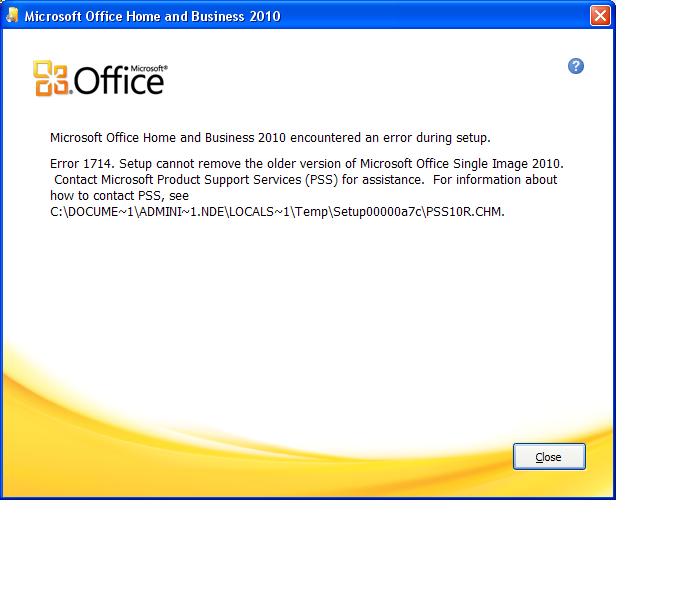 I have tried several fixes including this to no avail:
http://support.microsoft.com/kb/928218
I have tried Windows Install clean up utility but that just errors when I try and remove the remnants of the program.
I have also tried RevoUninstaller without success - it detects and deletes many registry entries and files/folders but the office installer ALWAYS detects the old version and tries to upgrade it.
Tried to get through to MS Product Support Services - they want a PID for the product which I put in (from another 2010 install that works) and it does not recognise it, and want £46 to speak to me otherwise which I will not pay.
No idea what is stopping this and have had to System Restore back to a few days ago so that the user can continue using office 2007 until I get the fix for this - it almost seems like 2007 just will not be removed from the PC. I really dont want to hear I have to format the PC - that seems ridiculous just to update office, so hope someone has a cast iron fix.
Searched beforehand and found a similar issue but with previous versions of office in this question - have tried the suggestions in there to no avail either.
[
https://www.experts-exchange.com/questions/24433775/Office-2007-Install-issue.html?sfQueryTermInfo=1+10+1714+30+error
]