I use viewnavigator and obtain the entry but I need to get the column values of the entry.
How can I do this?
ColumnValues are calculated using formula ,so I guess it is not possible to obtain values with viewNavigator?
Doing that what I want to achieve is that, I need to get the two dates on the form and name of the creater of the form and then compare it to other forms' date and name information,if the person is the same and it has collapsing dates I need to change the color of both records of view so that someone can easily find the problamatic,collapsing records in the view....If I was able to retrieve the information of the records easily with viewNavigator .I was going to do that but I dont know what can be done on this?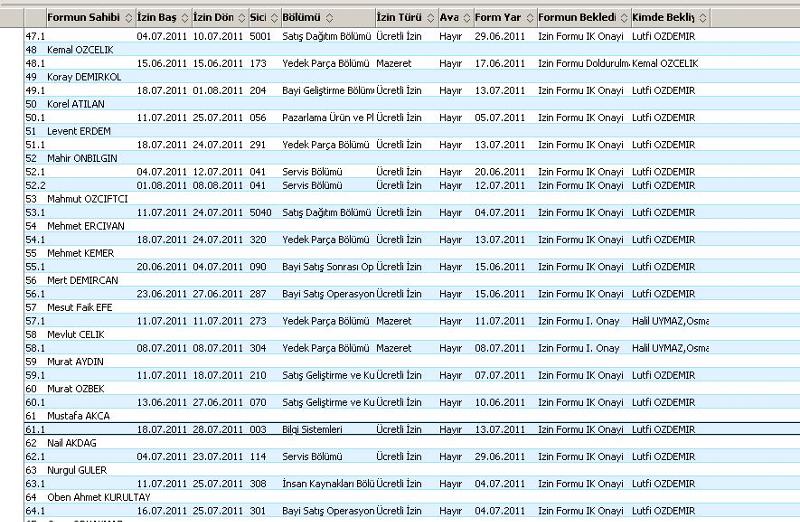 'Below is the code I dont know is there a way to obtaing the column values which there are about 13 columns in the view??





Dim s As New NotesSession




	Dim db As NotesDatabase




	Dim coll	As NotesDocumentCollection




	Dim view As NotesView




	Dim doc	As NotesDocument




	Dim nav As NotesViewNavigator




	Dim entry As NotesViewEntry




	Dim columnvalues(1 To 13) As Variant




	




	Set db=s.Currentdatabase




	Set view=db.Getview("IzinGenelIK")




	Set nav=view.Createviewnav()




	Set entry=nav.Getfirst()




	




	




	Do Until entry Is Nothing




	  




     





	 Set entry=nav.Getnext(entry)




	   




	Loop