Sharepoint 2010 Foundation Server update to SP1, on a Windows Server 2008 R2 server w. SQL 2008 R2 (virtual machine with database on separate volume/VHD).
Initially I thought the process only consisted of one update (sharepoint foundation 2010 sp1). Then after successfully installing this update I let people start updating and adding material to the SP-server, and was soon faced with reality - people started having strange issues.
After that, my backup is not entirely up-to-date, and I now tried to do the rest of the correct installation.
So I found this thread:
http://sharepoint-tutorial.net/post/2011/06/28/SharePoint-2010-Service-Pack-1-Part-1-Overview.aspx
And I simply continued from where i stopped, since I actually (luckily) had just taken the first step of the correct procedure.
But something must have gone wrong, since I can't connect to Central Administration nore the websites on the sharepoint server. Im faced with the aforementioned message: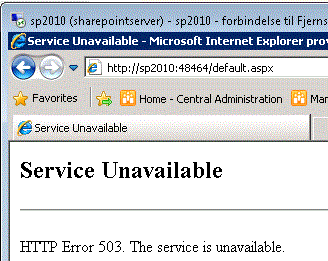 Advice greatly appreciated..