Hello,
to get to the point.
we have 2 seperate networks
1. Server network on 1.1.1.1
2. Workstation network 2.2.2.2
On the
Workstation network
we have ouir DC's and an Exchange 2010 box.
We have an MSSQL 2008 R2 system on the
Server network
that runs the reporting services that needs to send out emails to external clients.
Since through the GUI you cant not set Authentication methods (which is beyond me why... and have to do it via editing files) i wanted to allow the MSSQL server to send emails through our exchange server and out to the world, also later some other servers can make use of this Connector and all i have to do is allow the IP in.
My understanding is i just needed to create a new Receive Connector, allowing Anonymous access and no authentication. I did this, created it, assigned it a seperate internal IP on a 2nd NIC i put in, and then did my port forward rules on the firewall.
So right now i have hosted:
Main Exchange system 3.3.3.3
New receive connector on 4.4.4.4
I have restarted the transport role and the entire exchange server, but no matter what, I can either not connect, in outlook testing i get a "service not availible error", or i get a "relaying is not allowed" error, which it should be no?
Our main Exchange server accepted domain is say
email.eu
, and then sending address of the test account is
noreply@sending.eu
Just to double check i redid the
Receive Connector
Name:
External Servers
Intended use:
Internet
Local Network Settings
Added the internal IP not in use and removed the "all availible"
10.0.1.3 port 25
(other receive connectors run on 10.0.1.2)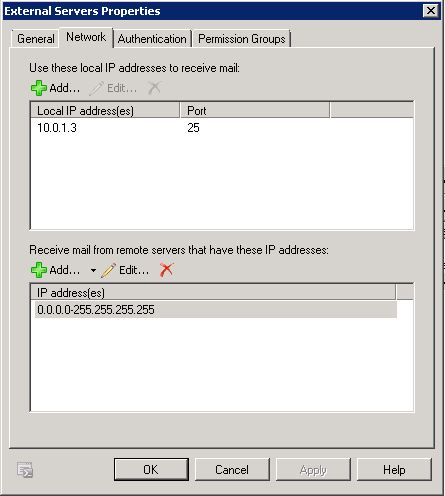 FQDN i made the same as the other receive connectors
mail.mail.eu
Completes successfully.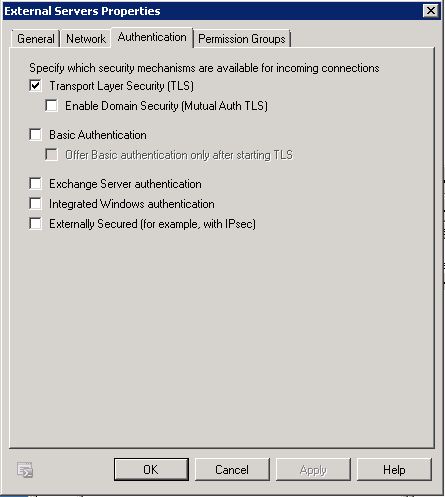 What am i doing wrong?
I wish to use IP restirction to allow a system to relay through this server or not.