Basically I'm looking for some assistance with end-to-end e-mail delivery within Exchange 2010. This is for a testing environment I'm using at home. I've decided to include a diagram of my setup at home.
Here's the network setup:
1) SMC Router is configured as a DHCP server. All computers on my home network are part of the 192.168.0.0/24 subnet.
2) I have a PC and Laptop with the addresses shown above.
3) My laptop is running VMWare Workstation with two Virtual Machines. One is a Server 2008 R2 VM which has been promoted to a domain controller for the "testlab.com" domain, had the DNS role installed, and has a copy of Exchange 2010 runing. The other VM is a Win 7 Enterprise VM with an Outlook client for testing purposes.
4) Both VM's are part of the 10.7.7.0/24 subnet and use NAT in conjuction with VMWare through my laptop to access external resources. My server is 10.7.7.5 and the Win 7 box is dynamic.
5) Both VM's are currently able to access the internet and other external resources (they can ping the PC on my 192.168.0.0 subnet for instance). Also my VM server's DNS seems to be working correctly and I have no forwarder installed. The default gateway for the virtual network is 10.7.7.2 as configured by VMWare.
I've installed and configured Exchange 2010 SP1 and right now I'm trying just to be able to send mail to an external domain over the internet from the VM (if that's even possible given my network structure). I'm not concerned about receiving mail at this point, just sending it out. I set up the proper "Internet" send connector under the hub transport roll and configured it as follows:

When I try to send an e-mail from my Outlook client it goes into the sent folder, but the item appears to get stuck in the queue on my Exchange server: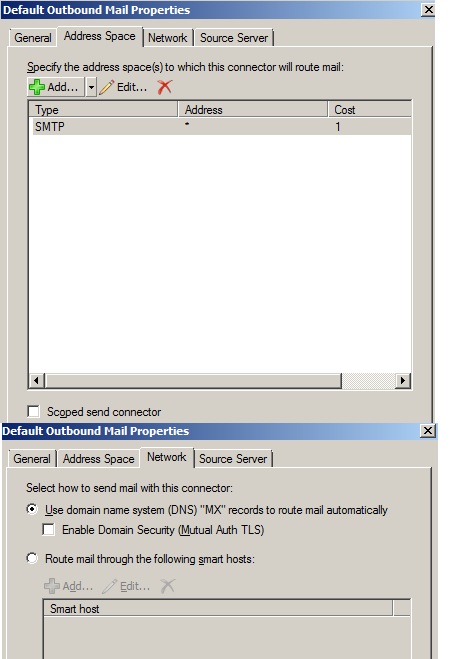 Excluding my ISP blocking this type of traffic is there any other configuration I could be missing. I mean technically this server is not internet-facing. I'm passing the request to a virtual router which then needs to pass through my home network router and to the internet. I'm not sure if this type of functionality is possible, but I thought I'd ask the experts :)