Experts,
I typcially import tables into my db.
The reason is to remove the linked tables from the network and work the db from home.
I have some code to import tables and have placed it on an unbound form's button click event.
I get an error when importing.  
The error states "Multi Valued Fields are not Allowed in Select Statements".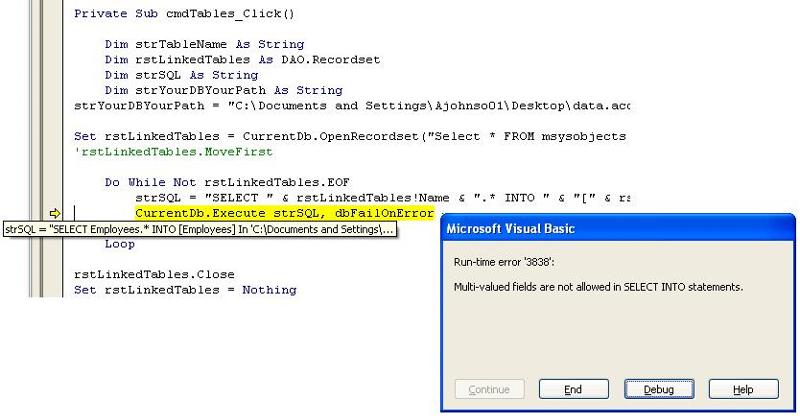 The msg says something about the "Employees" table (yellow highlight in screen print)
This table contains hyperlinks and attachments.  
Maybe the code will not handle those type of fields.  
Any idea why I might receive the error?
I am running 2k7.  
Private Sub cmdTables_Click()





    Dim strTableName As String




    Dim rstLinkedTables As DAO.Recordset




    Dim strSQL As String




    Dim strYourDBYourPath As String




strYourDBYourPath = "C:\Documents and Settings\Ajohnso01\Desktop\data.accdb"





Set rstLinkedTables = CurrentDb.OpenRecordset("Select * FROM msysobjects WHERE Type=6")




rstLinkedTables.MoveFirst




    




    Do While Not rstLinkedTables.EOF




        strSQL = "SELECT " & rstLinkedTables!Name & ".* INTO " & "[" & rstLinkedTables!Name & "]" & " In " & "'" & strYourDBYourPath & "'" & " FROM " & "[" & rstLinkedTables!Name & "]"




        CurrentDb.Execute strSQL, dbFailOnError




        rstLinkedTables.MoveNext




    Loop





rstLinkedTables.Close




Set rstLinkedTables = Nothing






End Sub