Hello,
When the commands for Left & Right Indent are included in the Excel QAT, mousing over them displays the shortcuts to be:
Ctrl+Alt+Tab and
Ctrl+Alt+Shift+Tab
respectively (see figures).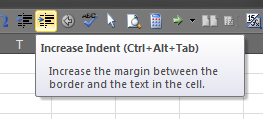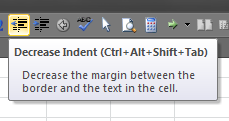 On my computer, these shortcuts do not work -- which was the case when I was using Excel 2007 and persists after recently upgrading to Excel 2010. I'm curious to know if those shortcuts work for others in which case I will need to investigate my own system.
On the other hand, if everyone has the same situation, I'm curious to know why and also, if MS or anyone else has created a different shortcut key sequence that does work.
BTW, my modifier keys (Ctrl, Alt, etc.) seem to work fine as do all other QAT command shortcuts.
Thanks