I am trying to set Sharepoint 2010 up on a test server. when I run powershell to create the application the code I am using comes back with 'The term 'New-SPSStateserviceDataba
se' is not recognized as the name of the cmdlet.........
I am using
http://www.harbar.net/articles/sp2010mt5.aspx
I am trying to set up a SP as a hosted environemt and have Win 2008 R2 with SQL Express installed and Sharepoint install without running the wizard. the code creates the Farm but will not go any further.
I fail when I try to run the code - see attached.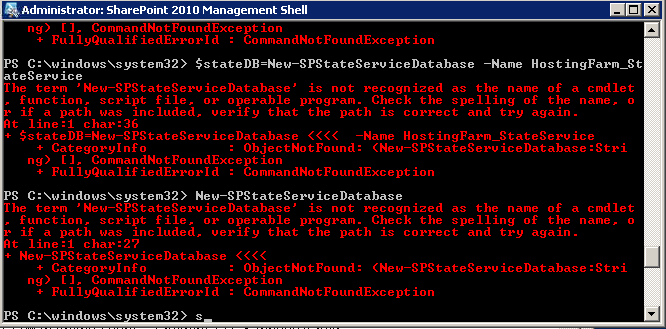 Write-Host "Creating $stateName Application and Proxy..."




$stateDB = New-SPStateServiceDatabase -Name $stateDBName




$state = New-SPStateServiceApplication -Name $stateName -Database $stateDB




New-SPServiceApplicationProxy -Name "$stateName Proxy" -ServiceApplication $state -DefaultProxyGroup