Hello, I have a problem with script from dynamicdrive dhtml.
http://www.dynamicdrive.com/dynamicindex1/navigate1.htm
I have extra space on the left of the list.
wich style or changes do I add to avoid these extra spaces.
I tried some solution that was working with safari/chrome and not with IE9.
Thanks for your help.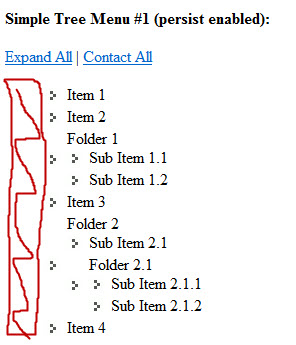 <HTML>




<head>




<script type="text/javascript" src="simpletreemenu.js">




/***********************************************




* Simple Tree Menu- © Dynamic Drive DHTML code library (www.dynamicdrive.com)




* This notice MUST stay intact for legal use




* Visit Dynamic Drive at http://www.dynamicdrive.com/ for full source code




***********************************************/




</script>




<link rel="stylesheet" type="text/css" href="simpletree.css" />




</head>




<BODY>




<ul id="treemenu1" class="treeview">




<li>Item 1</li>




<li>Item 2</li>




<li>Folder 1




	<ul>




	<li>Sub Item 1.1</li>




	<li>Sub Item 1.2</li>




	</ul>




</li>




<li>Item 3</li>




<li>Folder 2




	<ul>




	<li>Sub Item 2.1</li>




	<li>Folder 2.1




		<ul>




		<li>Sub Item 2.1.1</li>




		<li>Sub Item 2.1.2</li>




		</ul>




	</li>




</ul>




</li>




<li>Item 4</li>




</ul>




<script type="text/javascript">




ddtreemenu.createTree("treemenu1", true)




</script>




</BODY>




</HTML>



simpletree.css