Hi,
I've got a 2008 server with mirrored 500g drives. I want to physically remove one of the disks, leaving me with a simple volume of 500gigs without losing any data.
Step one, to make sure the correct disk gets removed, I physically remove the disk I want to be gone. That shows me a "Failed Redundancy" status in Disk Manager, and shows a missing dynamic disk, and my data is still live. This is good, however now I need to clean up disk manager...
I can't remove the dynamic disk with the mirror still "active", so I break the mirror (See RemoveMirror.jpg)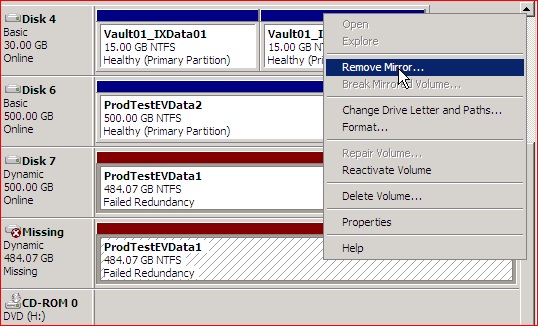 , so I remove the mirror.
Unfortunately, this leaves me with apparently TWO simple volumes with the same name, but just that one of them is on a missing disk: (See DeleteVolume.jpg)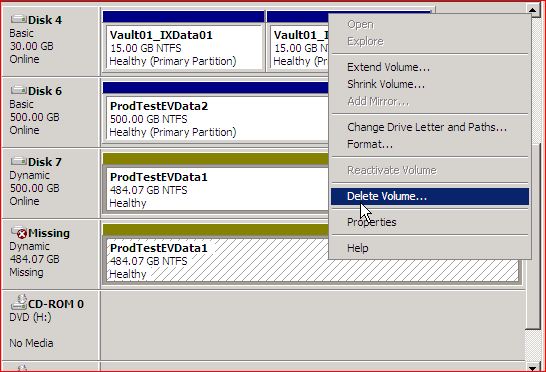 The problem is, when I delete the volume by right-clicking on the volume on the MISSING disk, it deletes BOTH COPIES of the volume, which kills my data on the good disk, I can't remove the disk [from the Dynamic disk database] without remioving the volume, so it looks like I'm stuck here..
Does anyone have any explanation of what I'm doing wrong?! As I'm writing this, I'm thinking perhaps if I change the volume label on the one I want to keep, at least temporarily, that will let it differentiate between the two disks, and only delete the one volume.. Perhaps that will work, and I'll try it as soon as I can finish the remirror on my test box, but if anyone has another suggestion, I'd love to hear it!
Thanks!
-Steve