hi IM/W7 folks
let me first explain why i had to install such an old fashioned application on my tablet running Windows 7 x64. basically, i just need a MSN/Live Messenger compatible application that allows me to chat using handwriting. for some reasons, the latest version of Live Messenger (2011) has removed handwriting support, and its earlier versions (e.g. 2008, which does support handwriting) do not work without upgrading to the latest version.
on my XP based tablet, i use 32-bit Windows Messenger 5.1. it is small and it just works. i do not need those useless features on the later versions of Live Messenger. hence, i am trying to use 5.1 on W7x64.
after following the instruction below, it seems that i have successfully installed the old 5.1 on my Windows 7 Ultimate.
http://keithbalomben.wordpress.com/2010/10/19/install-windows-messenger-5-1-on-windows-vista-or-windows-7/
now the text based chat works fine. but the ink/handwriting functions just do not work. whatever what i draw under Pen mode, nothing appears. moreover, the input pad may look like this when switching between Keyboard and Pen mode.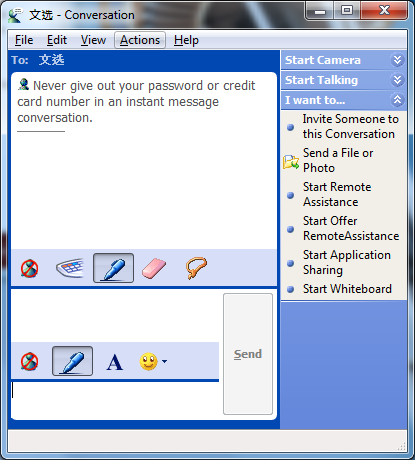 anyone ever had the same problem or any comments??
thanks heaps,
bbao