Hi,
I am having a problem where on one particular desktop the spoolersvc.exe process deadlocks and then obviously any programs that uses it (word, excel etc) waits for it indefinitely)
The current solution is to end the process and just start it again and everything comes back to life.
The eventlog doesn't report anything about the spooler except for me ending it unexpectedly.
I am wondering if we can turn diagnostic logging on or something for the spooler service perhaps.This seem to happen at startup, on first print, then after that it works ok.
It also doesn't happen at each startup, only some.
The OS is windows 7 32 bit.
The server sharing the printer is a mix of SBS 2008 and Server Standard 2008 64 bit
There are numerous other clients running exactly the same printers and drivers who don't have this problem. Two Desktops have this problem though.
The printers used are:
On the SBS server:
Brother HL-2270DW series, running on wireless
Kyocera FS-C5300DN
On the server Standard:
Samsung SCX-6345N
The reason the samsung printer is seperate to the rest is because as soon as you start printing through it on the SBS server documents gets stuck in the printer queues.
All the printers are running the latest drivers of the website, except for the samsung which is running a PCL5 driver.
The samsung is running this driver because it seems to be the most stable of the lot including(PCL6, and Universal)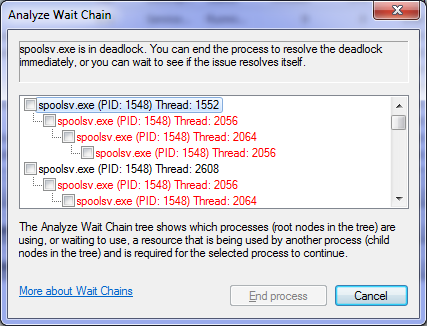 Any help appreciated.
Thanks
Wihan