With the reference to a previous question and being unable to backup to a shared folder I've used the
Back up to a Volume
setting with the below schedule
in order to trim transaction logs and backup Exchange Server.

Windows backup has created under drive (B:) the
WindowsImageBackup
folder which is now about 17,7GB.
But backup drive was using more space than 17,7GB that I could not locate.
I have found that windows backup tool has 21 copies with total 93GB in use.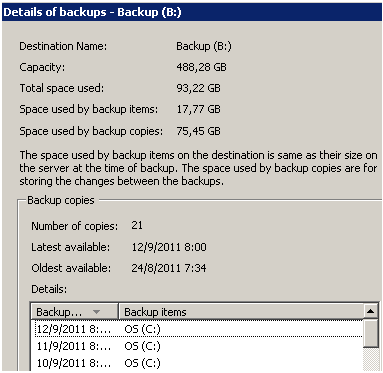 Q1)
Why Backup copies are not visible under backup drive? (As I said under (B:) drive there is only WindowsImageBackup folder which is 17,7 GB in size )
Q2)
What method is being used every time backup runs? (Incremental or Full?)
Q3)
If the last backup was successful , Do I need all these copies?
If not how should I keep,for example,the last 3 successful copies?