I have an end user in Korea who is encountering an error when they execute a QueryTable Refresh. They have the same Read/Write access to the directory locations that I have. When I run the refresh, it works correctly. When they run the refresh they get an error 1004.
The Query is on Worksheet, "Tbl_HR+" and the data connection is to an Access db table called "Tbl_HR". The connection string and Connection Properties box is listed below. The data is updated from a VBA procedure and the failing line of code is:
Sheets(wkShtRateTbl).Range
("A1").Lis
tObject.Qu
eryTable.R
efresh BackgroundQuery:=False
The full VBA procedure is listed below. The Procedure name is "Read_HR_Table()" and it is contained in the Module "MOD_RefreshRateTbl"
I am in the central US and my user is in Korea which is 14 hours ahead. I will not be able to work with them again until later this evening my time. I would appreciate any suggestions on things to look for when I can work with them again later tonight.
Excel 2007 and Access 2007
Thanks,
Jerry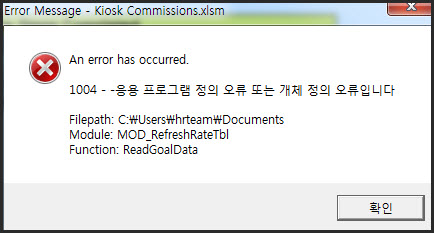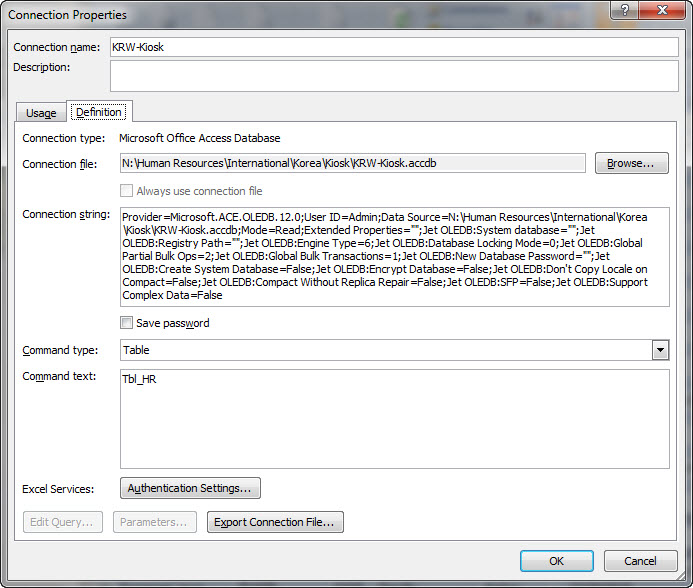 Connection String:





Provider=Microsoft.ACE.OLEDB.12.0;User ID=Admin;




Data Source=N:\Human Resources\International\Korea\Kiosk\KRW-Kiosk.accdb;




Mode=Read;Extended Properties="";Jet OLEDB:System database="";




Jet OLEDB:Registry Path="";Jet OLEDB:Engine Type=6;




Jet OLEDB:Database Locking Mode=0;Jet OLEDB:Global Partial Bulk Ops=2;




Jet OLEDB:Global Bulk Transactions=1;Jet OLEDB:New Database Password="";




Jet OLEDB:Create System Database=False;Jet OLEDB:Encrypt Database=False;




Jet OLEDB:Don't Copy Locale on Compact=False;Jet OLEDB:Compact Without Replica Repair=False;




Jet OLEDB:SFP=False;Jet OLEDB:Support Complex Data=False



Option Explicit





Sub Read_HR_Table()




'--------------------------------------------------




    On Error GoTo errHandler





    Dim wkShtControl As String




    Dim wkShtRateTbl As String





    errFlag = False




    Call TurnOffSettings





    'Initialize Variables




    wkShtControl = "Control+"




    wkShtRateTbl = "Tbl_HR+"





    Call SetStatusBar("Importing HR Data Table Information")




    Sheets(wkShtRateTbl).Range("A1").ListObject.QueryTable.Refresh BackgroundQuery:=False





    With Sheets(wkShtControl).Range("TS_RT")




        .Value = "HR Data Last Updated - " & Format(Now(), "MM/DD/YYYY H:MM AM/PM")




        .HorizontalAlignment = xlRight




        .MergeCells = True




    End With





finished:





    If Not errFlag Then MsgBox "Retrieved Kiosk HR Data.", vbOKOnly + vbInformation, "Successfully Updated"





    Call TurnOnSettings




    Call ResetStatusBar




    Exit Sub





errHandler:




    Call error_Handler(Err.Number, Err.Description, "MOD_RefreshRateTbl", "ReadGoalData")




    GoTo finished





End Sub