Note: I am posting this twice in hopes of hitting the correct zone(s).
URGENT help needed please:
Hello,
Does anyone know what this screenshot is? I have a suspicion that it is interfering with my QuickBooks software running (which I really need access to tonight for tax information which must be filed by tomorrow -- the 15th).
QB will not launch. Tried to repair software twice and each time the following image flashed just prior to the REPAIR FINISHED box. I will post the full details of what is happening momentarily but I wanted to get this posted ASAP to improve the odds of someone seeing it who knows what it is.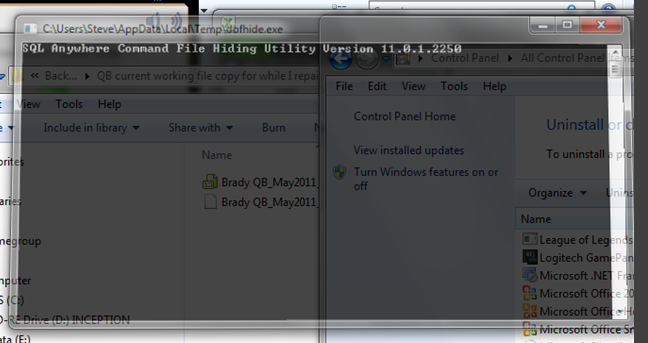 As closely as I can tell, the window says:
C:\Users\Steve\AppData\Loc
al\Temp\do
fhide.exe
and the screen says:
SQL Anywhere Command File Hiding Utility Version 11.0.1.2550
I googled both but did not find anything -- at least not anything I understand. Also, searching that directory (with hidden files and extensions viewable) produced nothing.
Thanks
PS I had no idea what zones to select so please move this to a more appropriate location if needed.