Hello,
I'm hoping someone can give me some advice - I've had a look around different posts but none seem to quite apply to my problem.
I have a virtual Windows Server 2008 R2 (64-bit) server, which is on a host installed with ESXi 4.1. Some time ago, although I can't recall doing it, I created a snapshot. It seems that since then the machine has been running in snapshot mode, and I came into work this morning to the following error:
There is no more space for virtual disk CompanyName-Exchange_1-000001.vmdk. you might be able to continue this session by freeing disk space on the relevant volume, and clicking Retry. Click Cancel to terminate this session.
I clicked cancel, and after the fear of watching the virtual server go into an orphaned state (and come back up again) subsided, I looked at the snapshot manager and the datastore.
I deleted the snapshot, but this didn't complete properly due to insufficient space on the datastore. The snapshot manager is now not showing any snapshots, however the datastore looks like this: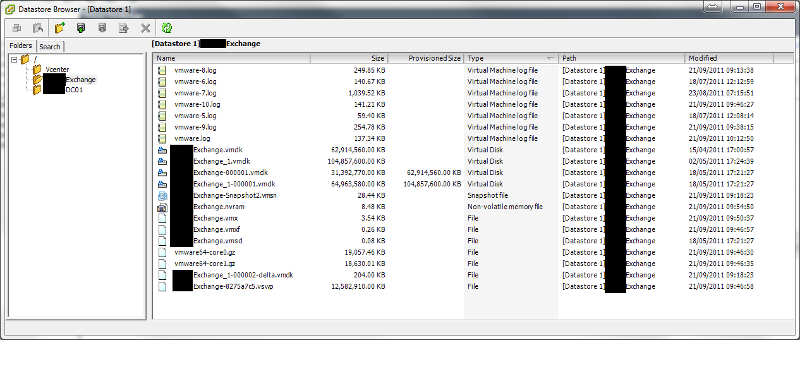 Looking at the settings for the server, it is actively using the 000001.vmdk virtual disks (which as you can see are quite large), rather than the originals.
What I believe I need to do is consolidate the changes and delete the snapshots, however I do not have the space to do this.
Any suggestions would be welcome!
Many Thanks,
Chris