Overview:
2 x Dell R610 servers
VMWare ESXi 5 installed on both Dell hosts
Equallogic PS4000 SAN
2 x Cisco 2960 switches to serve as redundant connection points between servers and san
My physical designs and cisco configuration files are attached
What I am trying to achieve.....
To ensure that my configuration is sound from both the Cisco side and the VMWare side to ensure redundancy and failover.
My switches are configured as follows:
Two LAG connection between switch1 and switch2 are configured on VLAN5
All iSCSI traffic between servers and SAN are configured on VLAN6
In brief,
On server1 I am using NICS 1 & 9 as redundant iSCSI connections to two different switches ....NIC1 goes to switch 1, NIC9 goes to switch 2
The same holds true for server2, NIC1 goes to switch 2, NIC9 goes to switch 1
A curious items I've observed
When I have two vmks within a vSwitch, I cannot ping the interface (sometime NIC1 responds but NIC9 doesn't, sometime they both don't respond to a ping).
I have configured each vmk within only one NIC (as indicated in the manual).
If I remove one vmk/one network card from the networking setup .... my pings respond without a problem.
As an example .... I am on server2 that has two NICS (1 & 9) assigned to 10.20.10.42 & 10.20.10.43
Switch 1 communicates via Gi0/2 to 10.20.10.43 - but no ping reply is received.
If I remove the vmk linked with NIC1 (10.20.10.42) as well as the NIC from the VMWare configuration, I can now ping 10.20.10.43 from Switch 1
I seriously need to get these units online and redundant within the next day .... so any help/insight would be greatly appreciated!
Visio-Servers-switch-wiring.pdf
sw1-confg
sw2-confg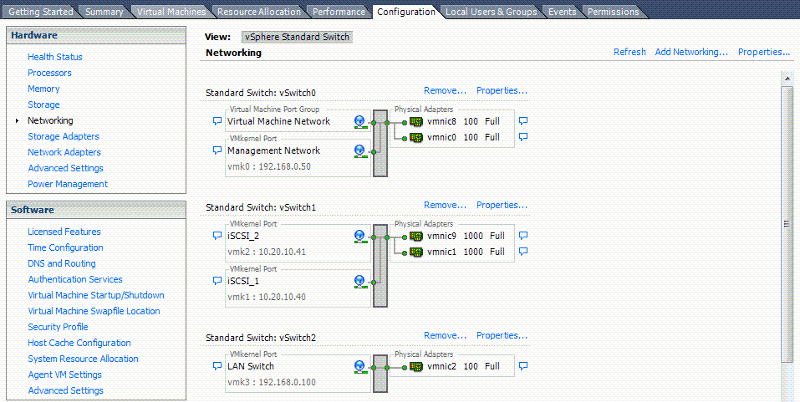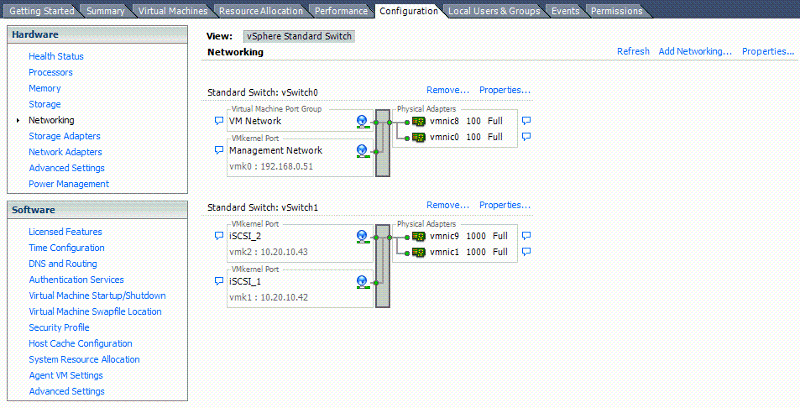 Visio-Equallogic-switch-wiring.pdf