I've read a few other posts on this, and unfortunately none have been able to get me to where I need to be.
I need to implement VLANs for my development network, inter-office VOIP, and departments. For my test I've got VLAN1,2,11. I'm working with managed routers from AT&T, and it could be a little of what is causing my issues, as I'm trying to clean up some work that was left by a former admin. All switches are 3com 2900 series.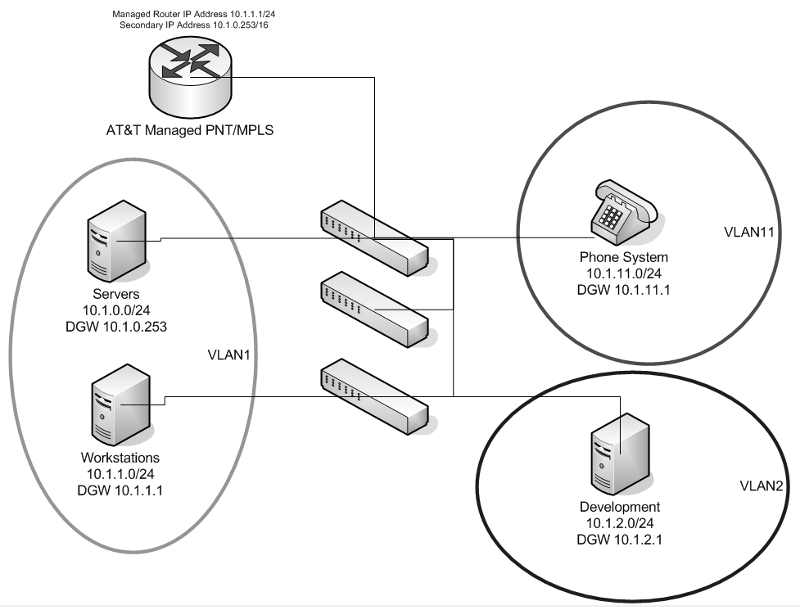 Ideally, I want to seperate the major components on my network with the VLANs. It's most important for us at the moment, because we need to apply QoS to the phones, and to do it I need them off on their own.
I've created VLAN1,2,11 on all of my switches. I've assigned the ports connecting those switches as tagged hybrids. I have two test machines plugged into the first switch, port 11 untagged as VLAN2 and port 9 untagged as VLAN11. Neither port 9 or 11 are members of VLAN1. I have created VLAN interfaces as follows:
VLAN1interface - 10.1.1.10/24
VLAN2interface - 10.1.2.1/24
VLAN11Interface - 10.1.11.1/24
VLAN2 & VLAN 11 Device:
CAN
Ping its gateway 10.1.2.1 for VLAN2 and 11.1 for VLAN11
Receive it's IP via DHCP from 10.1.0.104 DHCP server
CANNOT
Access or Ping anything beyond its VLAN - including the DHCP server it contacted for address
A VLAN1 device cannot ping anything on 2 or 11, including the interfaces with the DGW currently in place. A VLAN1 device with an address of 10.1.1.108/24 WILL Ping the interfaces of VLAN2 and 11 if the DGW is set to 10.1.1.10, but will not go any further. When I have tried to change the VLAN1 interface to 10.1.1.1, I lose connection to my server subnet of 10.1.0.0/24.
Advice is appreciated, as I have a second site that has the exact phone system connected via the PNT, and we need to do the same there. ATT is waiting to implement CoS across the WAN once we have the addressing and VLANs down.