Hello,
I am running Dragon NaturallySpeaking Pro 10 (DNS) and Office 2010. DNS is working great in Excel and Word but for some reason, it is not working at all in the body of Outlook emails. Interestingly, it is working fine in the To:, Cc:, and Subject boxes but not at all in the body area of the email.
When I went into options to check on the DNS add-in, I was surprised to see a number of other activated add-ins: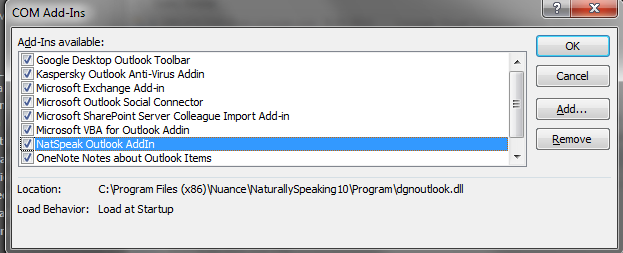 I have never noticed more than one or two in the past but then I don't remember having looked at the Outlook COM Add-Ins before -- it was always Excel or Word.
I am not very familiar with how add-ins work so I would appreciate it if someone could comment briefly on a few questions:
1) Can having multiple add-ins like this create conflicts or problems (i.e. should as many as possible be deactivated)?
2) Do I really
need
any of these add-ins? I am not familiar with MS Exchange, Outlook Social Connector, SharePoint Server Calling Import, and OneNotes Notes about Outlook Items
3) One more add-in that was hidden in the previous screenshot -- and by its name, seems like it would be more useful than the others -- is shown here (at the bottom):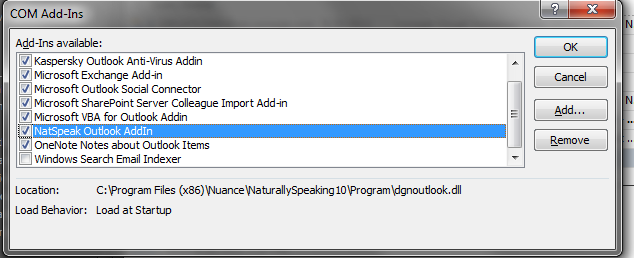 (Windows Search E-Mail Indexer) Is that one I should activate?
4) Is it helpful to deactivate or even remove some particular add-in and then re-add-it-in and re-activate it (similar to how it helps sometimes to restart an application or your entire computer)?
5) Do any explanations or possible solutions come to mind regarding the issue stated in the first paragraph?
Thanks