My testing so far has shown that if I apply a term to a document from the Global Term Store, the terms higher up in the hierarchy don't affect search. I don't think this should be the case, because why else would you have a hierarchy instead of just being flat like keywords?
Consider the following scenario: I have the following term set: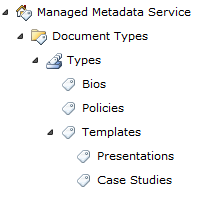 ... and I tag a document with "Case Studies". If I search on "Case Studies", I see the document in the results. However, if I search for "Templates", the document is not returned.
Why not? SharePoint is aware of the hierarchy. Is something not configured properly?