Sub GetThemAll()




Dim wbDst As Workbook, wbSrc As Workbook




Dim wsDst As Worksheet, ws As Worksheet




Dim strPath As String, af As AutoFilter




Dim strFileName As String




  




    strPath = "C:\GL Summary\"    ' change path as required




  




    Set wbDst = Workbooks("Payroll GL Summary.xlsx")




    




    strFileName = Dir(strPath & "*.xlsx")




  




    Application.ScreenUpdating = False




  




    While strFileName <> ""




  




        Set wsDst = wbDst.Worksheets(wbDst.Worksheets.Count)




  




        Set wbSrc = Workbooks.Open(strPath & strFileName)




  




        Set ws = ActiveWorkbook.ActiveSheet




        Set af = ws.AutoFilter




        If Not af Is Nothing Then




            If af.FilterMode Then




                af.ShowAllData ' clear filters




            End If




        End If





        wbSrc.Worksheets.Copy After:=wsDst




               




        wbSrc.Close False




  




        strFileName = Dir




    Wend




  




    Application.ScreenUpdating = True




  




End Sub



Error on: wbSrc.Worksheets.Copy After:=wsDst
Error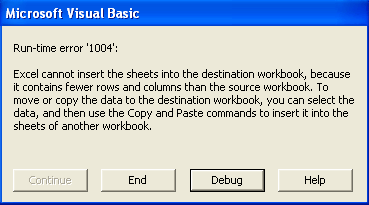 (see picture)
Hi,
I am getting the above error. I really have no idea as it works (the function) and no on another computer (same settings) The files this function 'copy' and 'paste' from are also same.
I have no idea why it would give this error on another computer while EVERYTHING is same (unless I am missing something)
Could you please help me debug?
Thanks!
Shanan