Hi guys.
I've been programming for a while but am new to programming Office Applications and AddIns in VS2010 so I hope you will bear with me.
I've created a new project WordAddIn1
and added a Ribbon and configured it with buttons
In my
ThisAddIn_Startup code
I want to interogate the current document and based on whether a customproperty exists or not, I want to disable the buttons.
but when I do the btn1.enable = false I get a error... as per the image.
I'm sure this is a basic error on my part so many thanks for the help in moving forward.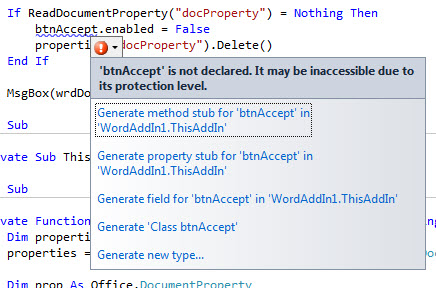 Private Sub ThisAddIn_Startup() Handles Me.Startup





        wrdDoc = Me.Application.ActiveDocument





        Dim properties As Microsoft.Office.Core.DocumentProperties




        properties = CType(wrdDoc.CustomDocumentProperties, Office.DocumentProperties)





        If ReadDocumentProperty("docProperty") = Nothing Then




            btn1.enable = false




        End If





...




    End Sub





Private Function ReadDocumentProperty(ByVal propertyName As String) As String




        Dim properties As Office.DocumentProperties




        properties = CType(wrdDoc.CustomDocumentProperties, Office.DocumentProperties)





        Dim prop As Office.DocumentProperty





        For Each prop In properties




            If prop.Name = propertyName Then




                Return prop.Value.ToString()




            End If




        Next





        Return Nothing





    End Function