I am going to be creating a VPC with Amazon. We have routers at our sites that dont support the Amazon VPN so I am going to be creating an instance with Vyatta as the router/firewall.  I have attached the Vyatta getting started guide. I will have our routers at all of our locations VPN to our Amazon cloud to our Vyatta router. In the Amazon cloud, I want a private subnet to be 10.243.174.0. I will have some servers on that subnet that all of my locations will talk to. I want the ability to add additional subnets i.e. 10.243.175.0, 10.243.176.0.... and will need all the subnets to be able to talk to each other.
Question is, when creating an Amazon VPC there are a few options. Someone please tell me what to do :)
1.) When creating a VPC, it says to select a VPC configuration. Screenshot (Selection#1 is attached) I am thinking I select the first option VPC with a Single Public Subnet only. Is this correct?
2.) After selecting "VPC with Single Public Subnet", it asks for the CIDR block and the subnet (Selection#2.jpg).. What do I type in each?
Thanks for the help!  
VyattaAMI-Install-Operate-Guide.pdf
VyattaAMI-Install-Operate-Guide.pdf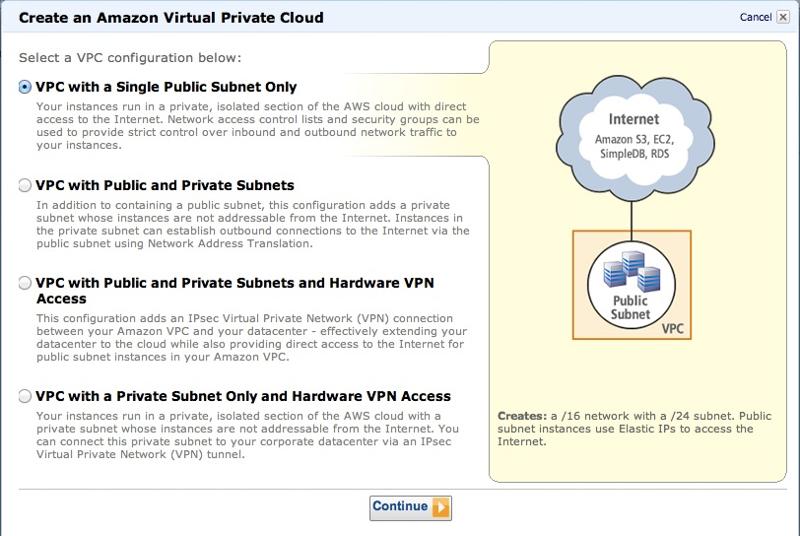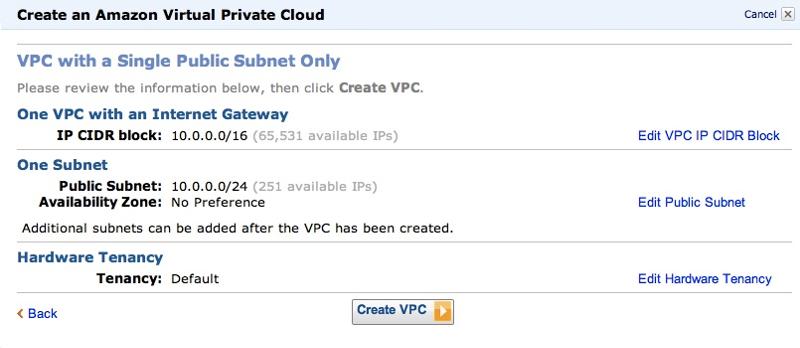 It depends on your needs.......for me to get a better idea of your situation; will your servers need to be accessed at all from the public internet? Or will all of the servers only be accessed by users at your different locations / sites?

Sorry for the rough explanation! They would need to be able to access the Internet .. Thx

Not at all...to clarify, will they need to be accessed *FROM* the internet?

Yes I would Rdp into them

Well then it sounds to me like you should be good to go with the VPC with a single public subnet only..you would just have to configure the Vyatta to allow in the IP's from wherever you are RDP'ing from.....the public subnet probably can be left at the default for now....you would need to go by pages 26 and 49 of the Vyatta guide that you attached.

So when it asks for the CIDR on screenshot #1, what do I type?

ASKER CERTIFIED SOLUTION
THIS SOLUTION IS ONLY AVAILABLE TO MEMBERS.
View this solution by signing up for a free trial.
Members can start a 7-Day free trial and enjoy unlimited access to the platform.