Dell PowerEdge 840
Service Tag: JT72MD1
Setup has a Perc/5i adaptor, DVD and Floppy drives, 3 160 GB HDD's
OS I believe is Windows 2000
I have a client whom hasn't had us service their server in several months, and their server's OS has gotten corrupted. Now this server needs to be fixed since it has software on it that allows them to read some particular data on the RAID5 array.
I've tried booting off of a system disk to attempt a repair, but the server doesn't give any options to 'hit any key to boot from CD' etc. I have connected a separate hard drive to SATA0 on the motherboard itself and activated the port in the BIOS. Only problem is, after the system reboots to put the change into effect, it doesn't keep the change. SATA0 is 'Off' when I check back in the BIOS.
Which for that particular issue, I have tried changing out the battery on the BIOS. That didn't fix that particular issue. I have even downloaded the server BIOS from the Dell website and placed the file on a floppy in the proper manner directed on the Dell site. This didn't get any where either, the system will read the floppy disk, but it never really even truly gets started with the upgrade. It will sit there, this is what it reads,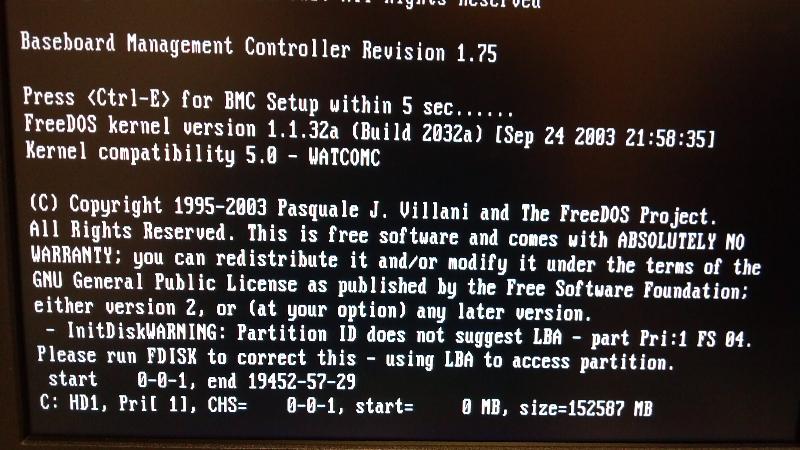 The last thing I have done is insert a spare video card I had laying around, as when the system boots up, it will revert to a blank screen after going through system boot up. Which the video card revealed what it had been saying,
'Loading PBR for descriptor 1...done.'
The message will stay on the top left corner of the screen, and doesn't do anything else.
I've run out of ideas on what to do in getting this thing running again, so I would certainly appreciate
any assistance in this matter.