Hi
I have a single server that is a DC wtih Exchange 2010 SP1 installed. I am attempting to set it up for many domains. I have successfully installed Exchange, installed a UCC SSL from a CA, and configured Exchange for many domains. I have Outlook Anywhere working and have correct DNS records, including autodiscover. testexchangeconnectivity.c
om succesfully completes for the 2 domains I have added so far.
On my SSL, i did the FQDN internal, FQDN external. This works for one domain, but I get a SSL certificate warning on the other domains because I didn't add them during the CSR. My question is, how do I get a SSL that will work properly for all domains I host? I thought about a wildcard SSL, but that wont help, will it?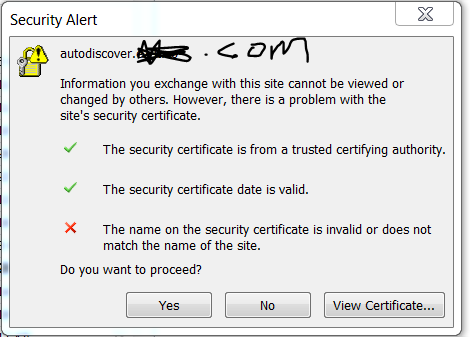 I need the SSL to to be good for all 3 checks for any and all domains.
I want to be able to have this certifiate cover 123.com, abc.net, xyz.org, 456.co, etc. Different domains and different extentions. I know this can be done because godaddy does the same thing with their hosted exchange.
Any help is appreciated. Once I get my ssl issue resolved I have accomplised my tasks.
Thank you very much.
Jimmy