Hello,
I am having trouble installing Truecrypt on a Windows 2000 server. The site says windows 2000 is still supported so I am not sure what happened. I did perform the registry hack to enable 48-bit LBA per suggestion of the program. I have also tried rebooting as well.
I am getting the following errors which I have tried regular installation and extraction methods. I have tried 7.0a and 7.1.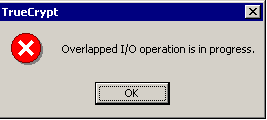 My goal is for Windows 2000 to access an encrypted truecrypt volume on the network.