Hi,
I am trying to abide by best practices with setting up a SAN (Dell MD3200i) that will have 2 host machines connecting to it (Windows Server 2008 R2, Hardware iSCSI HBA's).
Best practices say that you should create multiple paths from the host servers to the SAN (MPIO), and that each connection should be in its own subnet. All the examples I can find seem to be based around 1 host system connecting to a SAN. I understand this configuration pretty well, but I am getting confused when I throw multiple hosts into the mix.
My confusion lies in this wording: "each connection should be in its own subnet". Does that mean each connection, from each host, should be in its own subnet? So if each host has 2 connections to the SAN switch, I should have 4 subnets total? Wouldn't that get out of control if you had a lot of servers with redundant connections to the SAN? Also, my SAN only has 4 network ports, so really its limited to 4 subnets (which works in my scenario I guess, but not if I added more host servers).
So I'm thinking that each host server can share the subnet with the others hosts connecting to the SAN. For example, here is a diagram: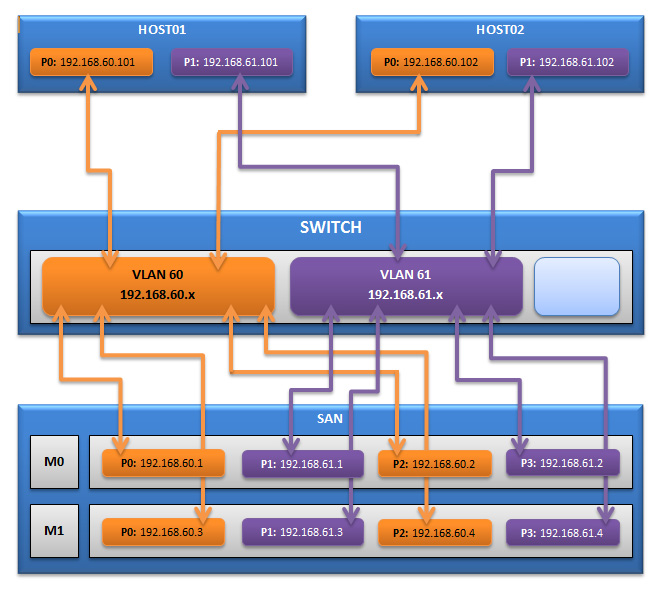 M0/M1 are failover controller modules, only one is active at a time.
Would this configuration be accurate? Or should HOST02 P0 and SAN P2 be on 192.168.62.x, and HOST02 P1 and SAN P3 be on 192.168.63.x?
This also leads into another question about iSCSI targets...
Assuming the diagram is accurate, should I specify a specific target for each HOST port to connect to? For example, should HOST01 P0 only connect to the IP of M0/M1 P0, and HOST02 P0 only connect to the IP of M0/M1 P2? Or should I add M0/M1 P0/P2 both as available targets?
Clarification would be great!