i created a view that holds a create date column.
on the designer query, i format the create date column to:
CONVERT(varchar(10), CreatedDT, 101) AS CreatedDT
when I query the view using a date range, the range is not respected and I get results outside of the range.
I wonder if anyone could have a clue of where my error may reside.
I am attaching the code.
Thank you.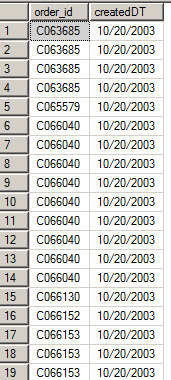 Query that makes the view (LabelDetailSummary):





SELECT     Order_ID, Bndl_Group, Part_Desc, Line_No, SUM(TubeFootage) AS BundleFootage, SUM(TubeWeight) AS BundleWeight, Heat_No, Bndl_Pc_Cnt, Length, Inches, 




                      Fraction, BoxDescription, BoxLength_Feet, BoxLength_Inch, BoxWidth_Feet, BoxWidth_Inch, BoxHeight_Feet, BoxHeight_Inch, BoxWeight, Cust_PO, No_of_Bndls, 




                      Box_Nbr, BoxLength, BoxWidth, BoxHeight, CONVERT(varchar(10), CreatedDT, 101) AS CreatedDT, Label_ID




FROM         Label




GROUP BY Order_ID, Bndl_Group, Part_Desc, Line_No, Heat_No, Bndl_Pc_Cnt, Length, Inches, Fraction, BoxDescription, BoxLength_Feet, BoxLength_Inch, BoxWidth_Feet, 




                      BoxWidth_Inch, BoxHeight_Feet, BoxHeight_Inch, BoxWeight, Cust_PO, No_of_Bndls, Box_Nbr, BoxLength, BoxWidth, BoxHeight, CreatedDT, Label_ID






query to select date range from view:





select order_id,  createdDT




from RG_LabelDetailSummary




where  createdDT between '10/19/2011' and '10/20/2011'




order by order_id, createdDT