Hello Experts,
I have developed an ERP System in C#.net.
My SQL select statement is following.
string ViewBill= "SELECT CustomerCompanyDetails.CustomerCompanyName, GeneratedBill.ChargableInText, TaxationDetails.ECCNumber, TaxationDetails.TINNumber, ustomerCompanyDetails.CustomerCompanyAddress, CustomerCompanyDetails.PostalCode, tblPostalCodes.Municipality, tblPostalCodes.StateProvince, CustomerCompanyDetails.CustomerCode, GeneratedBill.PurchaseOrderNumber, PurchaseOrderClient.DateOfIssue1, CustomerCompanyDetails.CreditPeriod, CustomerCompanyDetails.CustomerCompanyID, PurchaseOrderClient.PODescription, GeneratedBill.MaterialName, PurchaseOrderClient.ratePerQty, PurchaseOrderClient.MaterialName, PODescription, ratePerQty, MaterialName2, PODescription2, ratePerQty2, GeneratedBill.DiaCharges, GeneratedBill.PaidExciseDuty, GeneratedBill.PaidEducation, GeneratedBill.PaidSHECESS, GeneratedBill.DutyAmount, GeneratedBill.OutPutVatorCST, GeneratedBill.ChargableAmount, GeneratedBill.BillNumberFromClient, GeneratedBill.DispatchQuantity, GeneratedBill.GeneratedBillDate 




FROM CustomerCompanyDetails INNER JOIN PurchaseOrderClient ON CustomerCompanyDetails.CustomerCompanyID = PurchaseOrderClient.CustomerCompanyID INNER JOIN tblPostalCodes ON CustomerCompanyDetails.PostalCode = tblPostalCodes.PostalCode INNER JOIN GeneratedBill ON PurchaseOrderClient.PurchaseOrderNumber = GeneratedBill.PurchaseOrderNumber INNER JOIN TaxationDetails ON CustomerCompanyDetails.CustomerCompanyID = TaxationDetails.CustomerCompanyID 




WHERE (GeneratedBill.PurchaseOrderNumber = '" + PONumber + "') AND (GeneratedBill.BillNumberFromClient = '" + BillNumber + "')";



When I execute the above query I am getting following 2 rows

My query gives me all same columns in both result except
dispatch quantity and rate per quantity
In above example
POProduct - dispatch quantity is 15
Test in Production - dispatch quantity is 20

When I pass this query to Report it shows me the following report. I am getting 2 pages in report
In both pages all fields are displaying same records except dispatch quantity
On first page it shows 1st material dispatch quantity and on second page it shows 2nd material dispatch quantity (Check the attached screen-shot).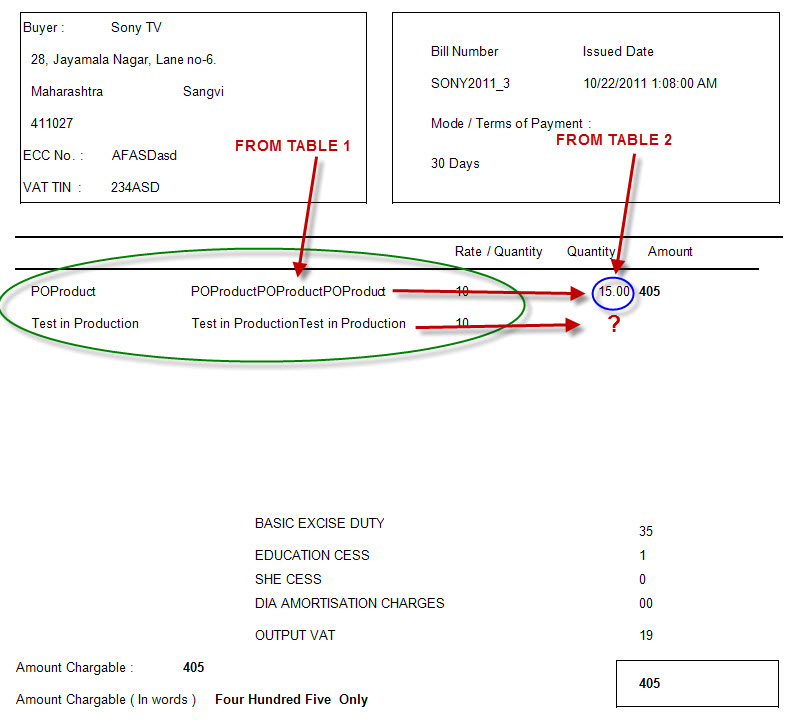 I wanted to display all the dispatch quantity in front of the same materail
Please Help me.