Hi All,
We have 8 node vSphere 4 cluster in our organization.
all of the 8 nodes are Dell R710 with 2QC CPUs and 72 gigs of ram.
Recently, one of the servers had developed some hardware issues,
and since this is a production enviroment and the server's warranty was already over,
we replaced the server with a new server, still Dell R710.
after installing ESXi 4.1.0 (502767) on it,
and configured the networking,
we added the new server to our cluster.
When we try to move virtual machines (vmotion) to the new server,
we're getting this error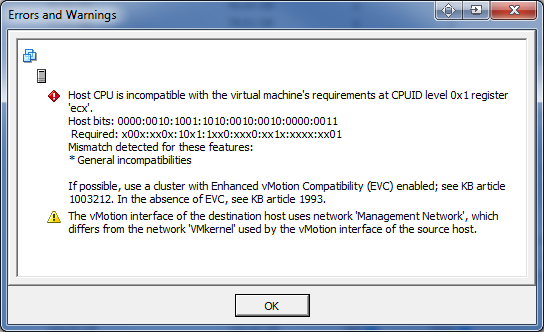 The new server has a Xeon 5620 CPU
While the other 7 servers has a Xeon 5520 CPU
also, the new server has a newer bios version than the other servers.
the new server is running ESXi 4.1.0 (502767) While the other servers are running ESX 4.1.0 (260247)
is there a way to make this cluster work properly?
Appreceate some help here,
Thanks! :)