I need Expert advice:
I have a pre-formatted email body containing an embeded link to a survey site that gathers job performance info on a particular employee. The email is to be sent out to specific individuals. Currently, recipient email addresses must be manually entered by the user into the mock "BCC:" section of the email message. Please see the screenshot below.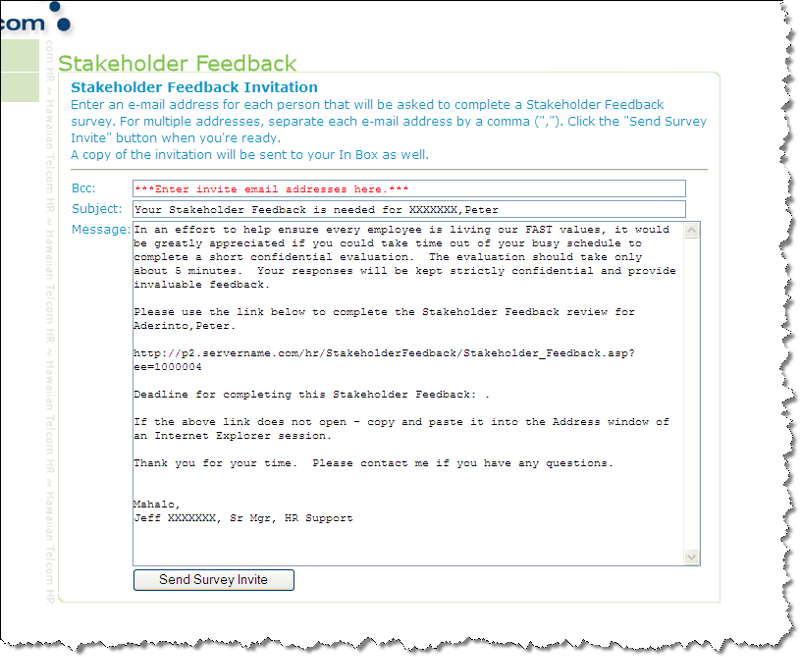 Problem: I want to replace the manual entry of email addresses with...
1. A dropdown that would provide the User (typically, a manager) to select an individual and...as each is selected:
2. To display the selected individual's email address in the mock BCC: email window
3. Allow for multiple email addresses, separated by commas.
Note: My database contains a table of all employees' email addresses and display names (from Active Directory).
Question: How would YOU add this functionality to the program? I code using ASP Classic (3.0...yeah, sorry, I'm a dinosaur). I don't need code - but a detailed procedural explanation would help me out. I'm able to "see it in my head," but I don't know how to execute it.
Thanks in advance for your advice!