I am creating a Installscript MSI project using Installshield 2010 Premier to install a SQL Server 2008 R2 SP1 Express prerequisite. No matter how I adjust the unattended parameters, the end result is always the same - failure. Strangely though, everything installs and works! It just keeps reporting back that it's failed. Once that happened, I took the snapshot below but first opened services and the start menu to show that everything is on the system as expected though.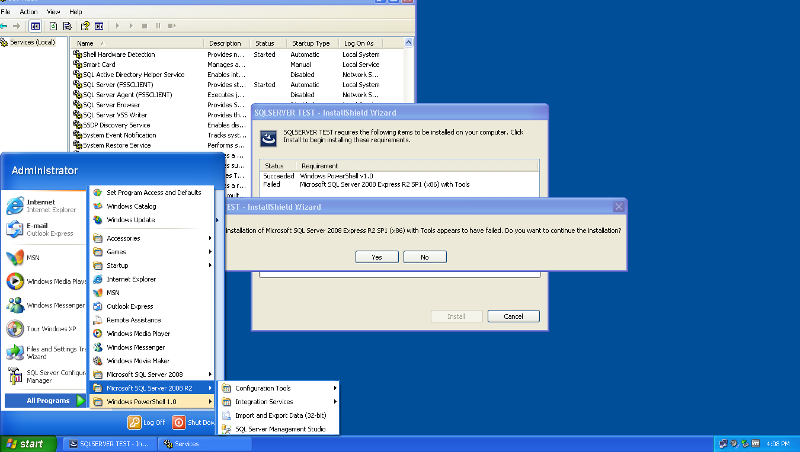 The ironic part is, like I already said, everything installs and works properly. Although, as you can see in the image, the SQL Server Agent did not install using Local System credentials. Other than that, I cannot find anything in the log files that indicates a problem to even hint to what I may be doing wrong.
Summary-XPVM-20111221-155713.txt
I've also included the Detail file as well (below). Does anyone have any idea what might be causing this hangup?!? Also, I'm using SQL Server 2008 R2 SP1 w/ Tools (sqlexprwt_x86_enu.exe). Am I dong something wrong here or what?!? By the way, I've also included my parameter string.
/QS /IACCEPTSQLSERVERLICENSETERMS="True" /ACTION="Install" /FEATURES=SQLEngine,SSMS /INSTANCENAME="FSSCLIENT" /SECURITYMODE=SQL /SAPWD="!FUNF00D" /SQLSVCACCOUNT="NT AUTHORITY\SYSTEM" /SQLSVCSTARTUPTYPE="Automatic" /AGTSVCACCOUNT="NT AUTHORITY\SYSTEM" /AGTSVCSTARTUPTYPE="Automatic" /ENABLERANU="True" /X86="True" /ADDCURRENTUSERASSQLADMIN
Detail.txt